Cloud Services
ServerLink turn any of your existing application like Accounting/ Stock System, ERP and etc to be remotely accessible. Hence, you can remain your existing application software but multi location accessible. Branches users are now ready to connect to Server in HQ with Remote Desktop Connection or Web Browser.

Shared Hosting
Affordable & full-featured Linux cPanel shared web hosting is a perfect solution for start-ups.
VPS Hosting
Next Generation Enterprise Grade SSD VPS solutions. Fully automated with built-in reinstallation and reboot options. Order one now and deploy it instantly
IT Security
Our extensive skills encompass all aspects of implementation in IT infrastructure, IT risk management, it security, and overseeing technical specifications to fit specific client needs.
IT Maintenance
We involve in various IT related services - IT consultation, various IT solutions & service. Our core focus on ongoing corporate maintenance support, business IT infrastructure implementation, PC.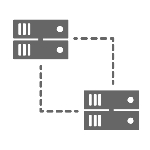 Backup Solutions
Hardware or software failures, data corruption, ransomware attacks, or simply accidental deletion can result in large amounts of data being lost. Backups provide a safety net when things go wrong and are an indispensable part of planning your infrastructure.
Contact Our IT Consulatant